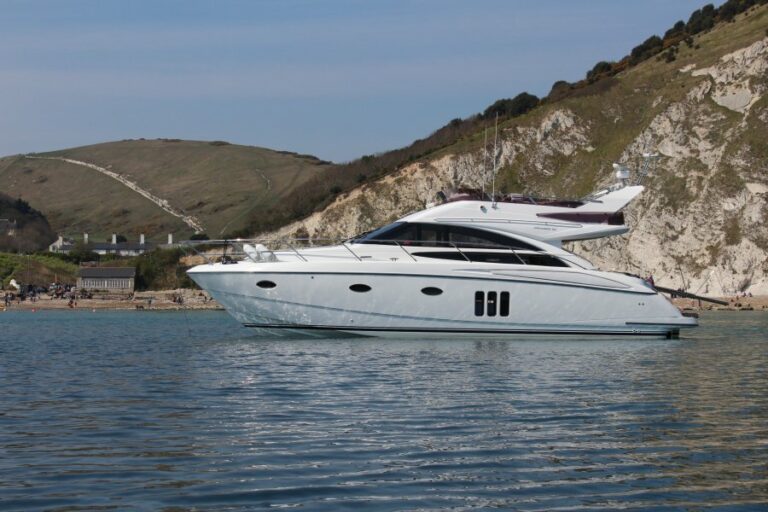 Our luxury motor boat is perfect for film, TV and commercial (advertising) charter work. It is spacious, modern and stylish providing the perfect backdrop for your project.
We show total discretion and are happy to sign non disclosure agreements so as not to compromise your work. You will notice there are no images relating to film work on our website. The Solent and our home port of Haslar in Gosport are for the most part away from public glare. Our Marina berth has security gated access so you will be able to go about your work without interruption. Gunwharf Quays is just across the harbour and provides many dining, socialising and shopping options. Gosport it's self can provide most last minute items which may be needed on the day.
Being a flybridge boat it is possible to have your talent at the helm unaided without actually being in control of the vessel. Control can be taken care of from down below at the enclosed lower helm. This even works for helicopter or other remote camera work where you may not want anyone else in shot. For total exclusion of the skipper an all black outfit including balaclava would compliment the tinted glass.
The boat is a 2012 new fast planing Princess 50 flybridge with a top speed of around 30 knots. Propulsion comes from a pair of 715 hp Caterpillar C12 ACERT clean burn engines. Electronic controls, shaft drives and side thrusters ensure high levels of manoeuvrability.
We also have a 2 bedroom penthouse apartment less than 1,500 metres from the marina with stunning views across Portsmouth harbour and the Solent should overnight accommodation be required away from the boat. Once again a gated entrance and an 11th floor location means privacy is assured. Otherwise Gunwharf Quays, Portsmouth and Gosport have a number of accommodation options.
A ferry service runs between Gosport and Portsmouth every 10 minutes or so throughout the day and takes a couple of minutes. Journey time by road from London to the boat is around 1 hour 45 minutes. The train service from London Waterloo to Portsmouth harbour takes less than 1 hour 40 minutes and the train station is adjacent to the Gosport ferry terminal.
The boat has a 240 volt generator rated at 11 kw which is virtually silent running and there are 3 pin standard UK outlets throughout the vessel. There are 2 bathrooms onboard, both of which have bedrooms attached should they be required for changing.
Finally we are aware that film work presents it's own unique problems and will do whatever we can to help overcome them. Thinking on our feet and a willingness to come up with a workable solution make both boat and crew an ideal choice.