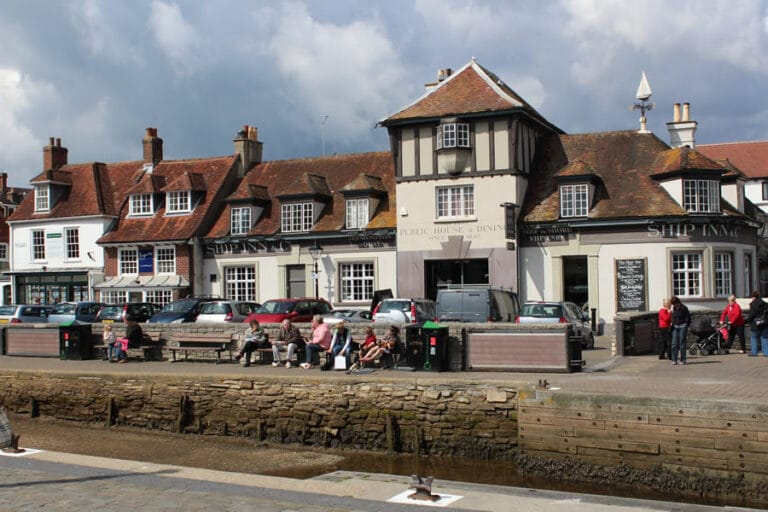 Lymington sits on the edge of the New Forest and is yet another well established boating hot spot in the Solent. It is a bustling market town with a strong boating history. It also enjoys good transport links using either rail or local busses to explore the New Forest.

Arriving from the water the towns focal point is the small quay. A fleet of fishing boats still use Lymington and it is common to see them offloading their catch on the quayside. Walking to the town centre takes you along the cobbled street of quay hill with centuries old buildings on either side.
The High Street is well populated with a combination of the large national shops and local more specialist retailers, it also still plays host to a Saturday market. There are lots of small alleyways leading off the High Street so have a good look around. There are some excellent local shops tucked away for you to discover.
The train station is a short walk from the town quay and stops off in nearby Brockenhurst. Brockenhurst sits right in the heart of the New Forest, the perfect place from which to explore. Lymington is also home to the Wightlink ferry service taking vehicles and passengers to Yarmouth on the Isle of Wight, just over 2 miles away across the Solent.
There are a number of traditional English pubs and former coaching Inns to visit in Lymington so finding somewhere to have a drink or a bite to eat is never going to be difficult. There are also some more up market dining possibilities here.

After all that food a spot of exercise is order so how about this for a suggestion? An open air seawater swimming pool first used in the 1780s. One of a handful still in existence and hidden away from the majority of visitors to Lymington. We must come clean and admit to never having tried out the facilities ourselves but many others have and don't seem to have come to any harm.
Hurst point and Hurst Castle are located very close to Lymington. Part of Henry VIII's grand fortification plan the Castle is in very good order. We can take the boat close to the castle, anchor up and then pop the tender in so you can explore at your leisure. Alum Bay and the Needles are on the other side of the Hurst channel.