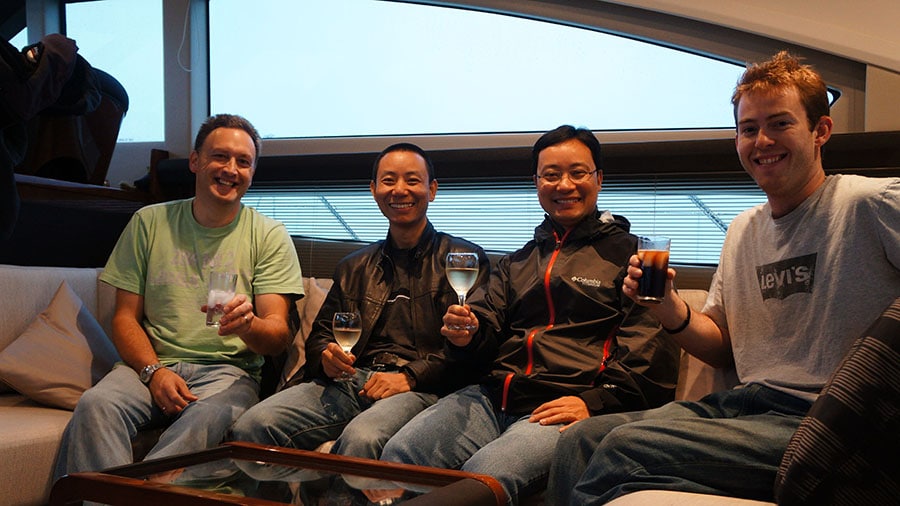 Life on Board our luxury charter motor yacht
Life on board is pretty relaxed. You have exclusive use of the boat so there won't be any other paying guests. You can do as much or as little as you want. We pride ourselves on the discretion shown to guests allowing them to enjoy their time with us in an informal manner.
Prior to boarding you will have discussed a provisional itinerary for your charter. Once comfortable and with a cup of coffee and a pastry in hand the skipper will run through a safety briefing and chat through the day.
If there's anything you need throughout the day all you have to do is ask. Whilst the skipper is there to ensure a safe and relaxing day the hostess is there to look after front of house.
The day is a mixture of high speed on the plane and more relaxing displacement cruising. Seating is available outside wind in your hair, semi exposed or fully covered inside with good sized windows and a couple of different seating areas. The internal space can either be heated or cooled with reverse cycle air conditioning to suit the season.
Lunch is taken as arranged and we will also stop off somewhere on the way back for an afternoon tea. Ultimately we want you to see England from another perspective only available to boat owners. Whether as a couple, a family, friends or work colleagues chartering a luxury motorboat like this really is a great way to spend the day.